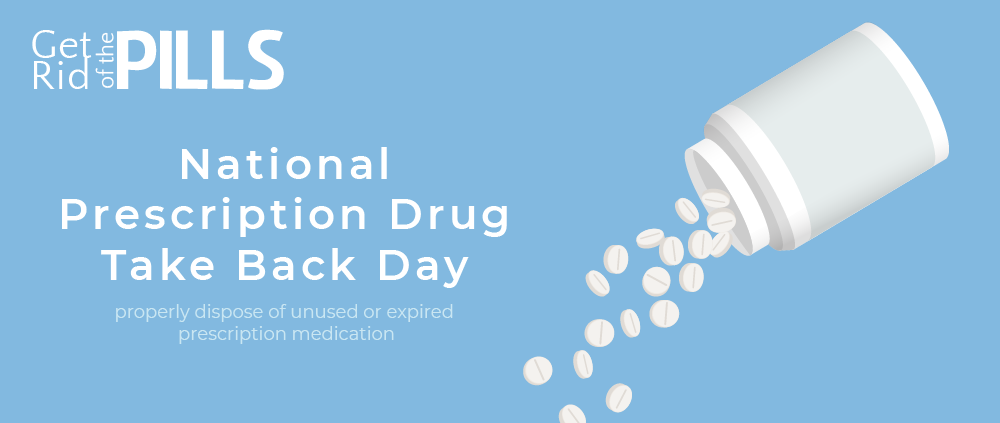 One Aspect of the Opioid Crisis is a No-Brainer…
Participate in National Prescription Drug Take Back Day
Saturday, April 27, 2019
10 a.m. to 2:00 p.m.
Revised 04/05/2019
Despite the increased focus on opioid abuse, particularly here in Pennsylvania, one long-overlooked aspect of prescription drug therapy is that relatively few individuals taking prescription drugs ever use their entire supply of the medication. A 2017 Johns Hopkins study showed that a large majority of persons with opioid prescriptions used only some – or even none – of the pills, and that less than 10% of those individuals disposed of their remaining pills by recommended means. A June 2016 Washington Post article revealed that nearly 60% of Americans have leftover prescription opioids in their homes – and 20% have shared those drugs with someone else.
Unused and expired prescription medications pose public safety and health issues that include misuse/abuse, poisoning, overdose, and death – and such threats are not limited to the individuals for whom the drugs are prescribed. One of the fastest growing groups of people misusing prescription medications are adolescents. By the time they are seniors, more than 20% of high school students will have used a prescription drug for a nonmedical purpose. Among young people who say they have tried illicit drugs, many also say their first experience with misusing drugs was with those found in their own homes.
Created by the U. S. Department of Justice Drug Enforcement Administration (DEA), National Prescription Drug Take Back Day is a program aimed at preventing addiction, overdose and death due to the misuse of prescription drugs by providing a safe, convenient way for people to dispose of unwanted, unused or expired prescription medications. In April 2018, the initiative collected more than 474 tons of such drugs, and since the program began in 2010, nearly 5,000 tons of leftover drugs have been collected.
The Take Back program also focuses on educating Americans about the dangers of keeping prescription medications which are no longer needed in the home. The initiative reminds us to practice safe medication use by taking only those drugs which are prescribed, and in the amounts prescribed; refraining from sharing prescriptions with others; and responsibly disposing of unused portions of medications once the drug is no longer being taken. In the workplace, employers should encourage workers to take advantage of Take Back Day and dispose of any prescription drugs they no longer use or need – which they can do safely, conveniently, anonymously, and free of charge.
Proper disposal of unused prescription medications protects the environment, reduces opportunity for and incidents of addiction, and can even save lives – and it's one battle in the war on prescription drug abuse in which we all can take an active role…and win.
Find a collection site near you:
https://apps.deadiversion.usdoj.gov/SEARCH-NTBI
Find an authorized collector for year-round drug disposal near you:
https://apps.deadiversion.usdoj.gov/pubdispsearch/spring/main?execution=e1s1
FDA advice on other ways to safely dispose of unused and expired drugs:
https://www.fda.gov/forconsumers/consumerupdates/ucm101653.htm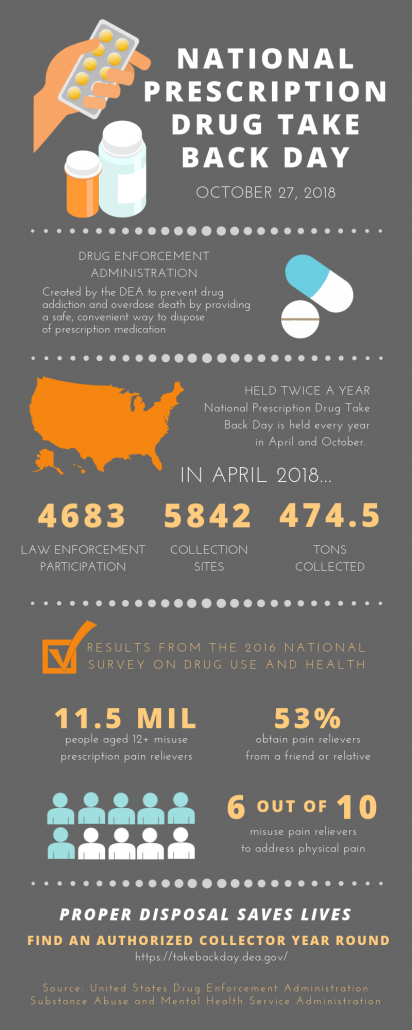 ---
References:
https://www.samhsa.gov/data/sites/default/files/NSDUH-FFR1-2016/NSDUH-FFR1-2016.pdf
https://www.sciencedaily.com/releases/2017/08/170802110541.htm
https://www.drugabuse.gov/publications/principles-adolescent-substance-use-disorder-treatment-research-based-guide/introduction
http://www.monitoringthefuture.org/pubs/monographs/mtf-overview2011.pdf
https://www.keyscriptsllc.com/wp-content/uploads/2018/10/Drug-Take-Back-oct-2018.png
426
1000
ksAdvancedMedia
https://www.keyscriptsllc.com/wp-content/uploads/2018/05/KeyScripts_Logo-300x59.png
ksAdvancedMedia
2018-10-11 19:58:56
2019-04-05 16:45:38
Dispose of Prescription Drugs Safely